Woodpecker Tree Care is proud to be part of the local economy here in the Maritimes. We work with a variety of exceptionally skilled tradespeople and small businesses, without whom it would not be possible to provide our services as efficiently. Our work has given us the opportunity to work with folks from Fredericton, NB, to Springhill, NS. Everything from our advertising, vehicles, tools, and expert advice is thanks to these talented locals.
Our trademark woodpecker logo is the brainchild of the multi-skilled Sue Rose, a Sackvillian artist, writer, and graphic designer whose pen and artistic eye has granted us numerous business-related designs over our many years in business. We have her to thank for our woodpecker insignia and the logo for our DutchTrig inoculation program. That woodpecker has been with us as long as the company name, and we are grateful to Sue for bringing it to life.
Our blue polos are printed and supplied by local artist Robert Lyon Graphics, who does all of our screen printing. Rob has made many shirts for us, since we burn through a bunch of them every year. Tree work is not kind to clothing!
Branding our vehicles and equipment has made a big difference for a small company like ours, and we have Larry Hunter Sign Design to thank for making that happen. Larry makes custom signage for us when needed, including special projects like affixing alupanel signs to our trailer.
We also owe thanks to Acadian Printing, a small print shop who takes care of the majority of our printed promotional materials. They are responsible for our signature fridge magnet business cards that we love to pass out. The owner of Acadian Printing is also an avid gardener, and we are glad to look after their trees. The Mount Allison Print Shop also helps with our printing needs, specifically our DutchTrig inoculation brochures.
Chris MacKay of Tantramar Interactive is an integral part of our branding, especially in recent years. He designed our website and provides us with web-related help and check-ups whenever required. We appreciate his insight and encouragement to get our website to where it is now.
Woodpecker Tree Care is one of many tree care companies in the Maritimes, and we are glad to have several working relationships with multiple professionals nearby and around the world. Since our work is specialized it is invaluable to have another expert to consult with or recruit when needed. Every now and then, we assess a job and determine that we are unable to complete it. This can be for a number of reasons, but it is most commonly due to a precarious proximity to high voltage lines or the job is better suited for a boom truck (which don't have). When this happens, we don't want to leave the client high and dry. Instead, we sub-contract or refer the client to another reputable company who has the proper equipment to handle the task.
When it comes to power lines, we often direct people to the talented arborists at Asplundh Tree Expert Company, Hanna's Tree Service, and/or Lucas Tree Experts . We also owe great thanks to Traveling Seed Tree Care, who lent us their skilled climbers and boom truck operators to help with Hurricane Fiona clean up in 2022. We love collaborating with our fellow tree experts on jobs big and small, and always learn something from them when we interact.
Woodpecker Tree Care has also benefited from talking shop with fellow arborists and tree care companies, including Laird Tree Care in Prince Edward Island. Owner and operator Kurt Laird is kind enough to answer questions about arboriculture products over the phone, and also employs one of our senior climbers (Beck Aurell) from time to time. The Athol Forestry Co-Op is another good resource for information that we enjoy having nearby for gear and expertise. We also value the insight of Ed Czerwinski (Forestree Care Company), who is our DutchTrig supplier every year. Ed is extraordinarily helpful when it comes to questions about Dutch Elm Disease and how it impacts his service areas.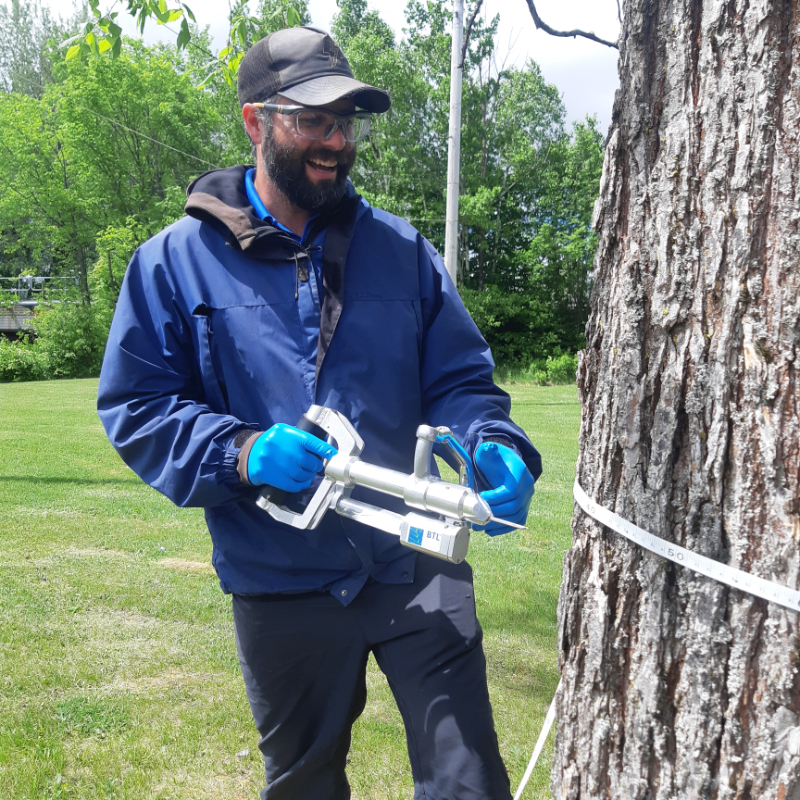 For our planting needs, we love to consult with and purchase saplings from Charlie the Tree Guy in Old Barns, NS. We've partnered with Charlie for years during the spring and fall so we can bring his high-quality saplings to our service area. Planting quality is an important determinant for a tree's overall health down the road, and getting saplings from a trusted nursery is invaluable. We also love to visit the gorgeous Corn Hill Nursery for its stunning views and café, and purchase the majority of our small shrubs from them.
We are fortunate to have many knowledgeable machinists and mechanics in the Tantramar area who can assist us with the maintenance of our professional-grade specialized equipment. We love our tools, and want to care for them so that they last and are safe for us to use. Blairlyn Auto Clinic and S. Hall Tire, Muffler & Auto Repair Centre have provided our trucks with routine maintenance and on-the-spot diagnoses and fixes throughout the years, and we are glad to have trustworthy mechanics so close to home. Haylock Truck & Trailer tends to our dump truck, affectionately named Tinkerbell, and has kept it running for many years. They have even driven to us, broken down on the side of a downtown Amherst street, to get it running for us again.
On the cosmetic side, our trucks are painted a uniform white colour and are undercoated regularly by Phil's Auto Body, a multi-generational business in Maccan, NS. It's always a pleasure to visit that shop, and the paint has stood the test of time (plus gallons of sawdust and wood chips).
Our wood chippers have visited their fair share of mechanics, including Dan Hartman of Community Machinery and our local Vermeer Canada technician, Roddy. Each of them have solved problems that baffled us, and got us back on the road. Rodney Lucci in Baie Verte, NB cannot be praised enough for his work maintaining and repairing our STHIL chainsaws and other two-stroke engine machines. We have purchased saws from him that we still use today, and will occasionally take our wood chippers in to see him if they are giving us grief.
There is a lot of non-outdoor work that keeps Woodpecker Tree Care running smoothly. We have a main office located in Sackville, New Brunswick, and are part of a wonderful symbiotic small business relationship web in our area. We incorporated Woodpecker Tree Care (Ltd.) in 2022 after much assistance from our diligent accountant (McIsaac Darragh Chartered Accountants) and lawyer (Hicks LeMoine Law). Our accountant, Susan McIsaac, is a frequent customer and "loves small business," and we appreciate all of her help with routine bookkeeping and accounting questions.
Zac Wheeler (Wheeler Electric) did a fabulous job with our outdoor and indoor wiring, which allows us to work more efficiently and safely. We especially appreciate his handicraft during the winter months when Woodpeckers stumble into work in the darkness. Fundy Solar of Jolicure, NB outfitted us with solar panels to help lower electric bill and environmental impact. During the sunny season, we only use a small amount (if any) extra power to keep the lights on and appliances running.
Running a small business means that even the most minute of details must be combed over, and we are so grateful to April MacKinnon of Anointment Natural Skin Care for her advice as a fellow small business owner. She taught us how to send packages without breaking the bank, which is something we take advantage of on a regular basis. We also patronize each other's businesses regularly; her soap is found in our office restrooms!
This is only the beginning of the business map that we are one small part of, it will surely grow throughout the years. As time goes on, we will continue to update this page to better reflect the amount of local talent we employ and provide services for. Thank you to all of the small business owners and service providers who have provided us services throughout the years, we couldn't be Woodpecker Tree Care Ltd. without you!