---
SUMMER HOURS AND OPERATION
Woodpecker Tree Care is busier than ever this year. We are so happy and thankful for the amount of business this season, and are working hard to keep turnaround time as short as possible. There is, however, a bit of a wait time depending on how acute the situation with your tree is. As always, we will respond to emergency jobs as soon as possible. We thank all clients for their patience.
We plan to take summer vacation during the first week of August this year (4th-8th), returning to work on the 11th. Email is the most efficient form of communication during that time, as our voicemail box may fill up while we are away.
Woodpeckers are on duty Monday to Friday, from 8AM to 4PM. We check our emails every morning at 7AM, and answer the phone if we're not too busy on a job site. If you get our voicemail, it's very helpful if you leave your name, phone number, and a brief description of what services you would like.
If you are a fairly new client, or are curious about our process, we have a "What to Expect When You Call" page on our website under our "About Us" section.
We hope to see you (and your trees) soon!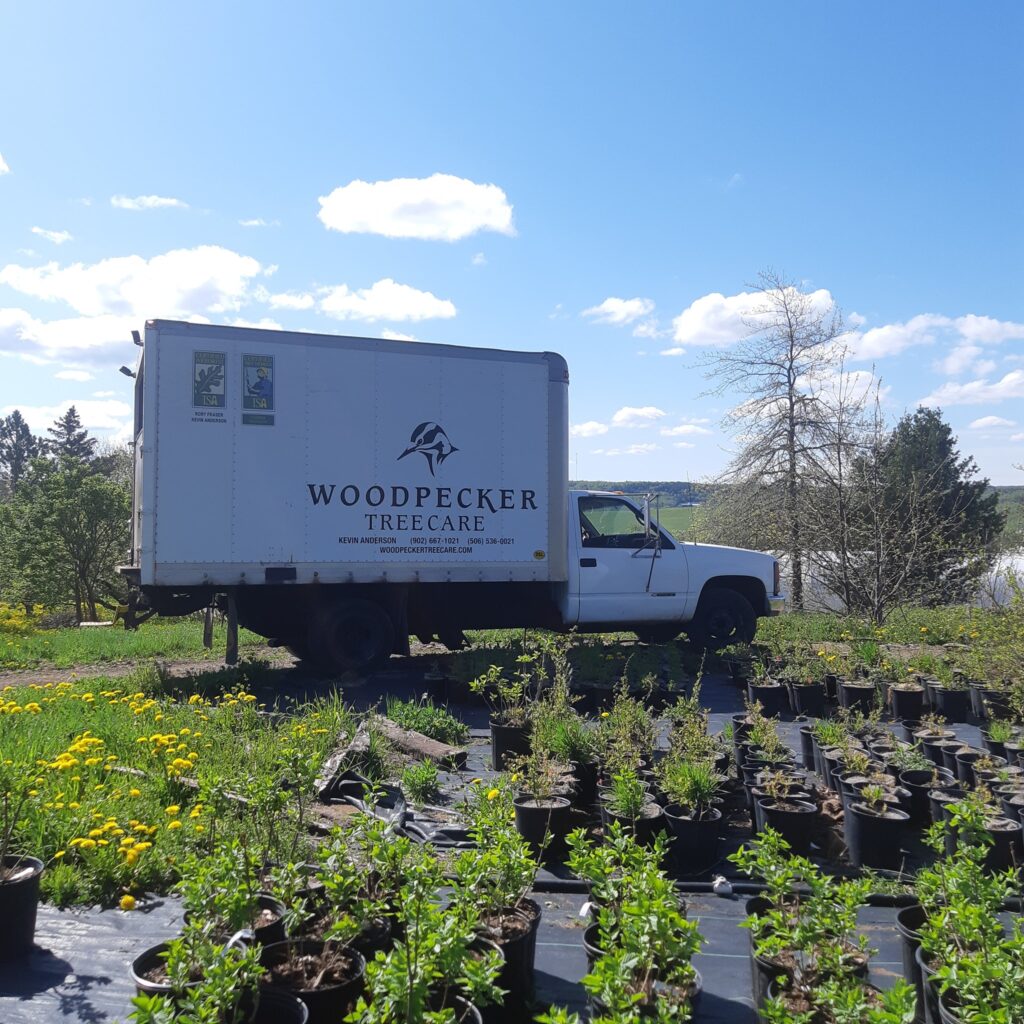 CONGRATULATIONS RORY!
Rory Fraser has been with Woodpecker Tree Care for eight years, after he returned to Sackville from Oman (can you believe he used to be a teacher and librarian?). During those eight years, he has levelled up his expertise and skills through hard work and training.  He wrote his exam in June this year, and he is officially an ISA-Certified Arborist (an upgrade from his former credential, ISA-Certified Tree Worker: Climber Specialist)! We are happy that he passed his exam (without trouble, we're sure), and are incredibly lucky to have him on the crew as a climber and office manager.
WOMEN'S TREE CLIMBING WORKSHOP SCHOLARSHIP
Woodpecker Tree Care has sent several climbers to the Women's Tree Climbing Workshop in the United States, which has been an extremely positive experience. The workshop is a safe, positive, and encouraging environment for climbers of all experience levels to participate in a group of their peers. Women are underrepresented in the arboricultural industry, and we want to encourage initiatives like this one so that everyone can experience the joy of climbing.
We are currently fundraising to send one climber (it is yet to be determined who) to the workshop next spring. Kevin has offered to bake a loaf of his delicious sourdough bread for anyone who donates $25.00 or more. We also have butternut saplings available for purchase, which will benefit the workshop.
Anyone interested in donating to the scholarship fund can get in touch by email or phone. If you are interested in learning more about the workshop, you are welcome to get in touch and we can answer your questions and/or share your enthusiasm. 
BEECH LEAF-MINING WEEVIL PAPER
Kevin was tasked with a scientific and creative project this past year, and the fruits of that labour have been published by the Acadian Entomological Society. Working together with zoologist John Klymko, Kevin collected specimens of the beech leaf-mining weevil for John's studies. John wanted to determine the habits of the weevil in New Brunswick and Nova Scotia, as this invasive pest is spreading quickly and doing quite a bit of damage to our beloved beech tree population.
It's possible that us humans are helping these pesky little bugs spread across the Maritimes! They tend to spend their dormant period hiding in various tree bark, and could be transported around with logging trucks or campers hauling firewood. Those with beech trees may want to watch out for this pest, and let us know if you see any signs of it. Read more about the beech leaf-mining weevil online (for free!) on our social media pages or on the Acadian Entomological Society's website.
WEED WHACKERS
Whether you call them weed whackers, whipper snippers, string trimmers, or brush cutters, those helpful lawn care devices are great for keeping grass down but can be really harmful to tree trunks. A few licks with a weed whacker can do long lasting damage that is difficult for the tree to recover from, especially if it happens repeatedly. Recovering from wounds depletes the tree of energy, which can leave it open to things like decay, dysfunction, and disease, which may kill it.
The father of modern arboriculture, Alex Shigo, felt so passionately about this that he wrote, "Stop lawnmower wounding. Lawnmower wounds repeat. When an operator continues to wound trees, lay the person off without pay for several days. This is the cure."
Prevention is the best strategy when it comes to lawnmower wounds, but in the event that you accidentally bump your tree and cause a wound, resist any urge to cover that wound with dressing. We have encountered trees with wax, paint, or cement applied to holes or wounds in an attempt to help it recover, but research indicates that these methods ultimately do not help and can sometimes cause further damage. Instead, allow the tree time to recover and give us a call if you are concerned about a wound. We understand that accidents happen!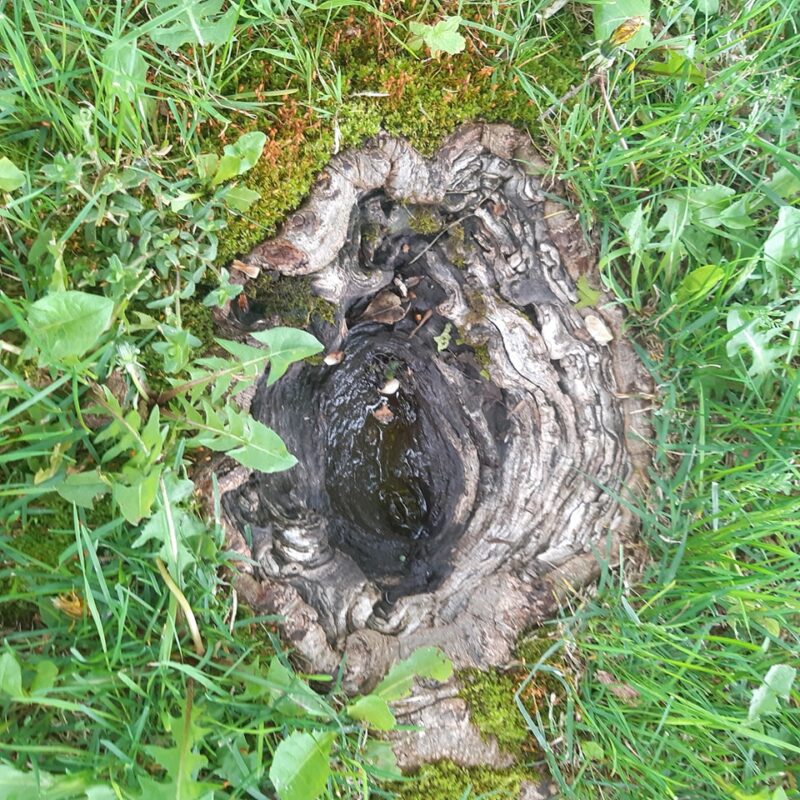 PEACE BY CHOCOLATE RAFFLE
2022 is Woodpecker Tree Care's twentieth year in business, and one of the ways we are celebrating is with a year-long monthly giveaway for members of our mailing list. On the 15th of every month, we will draw from our subscriber list and give away some delicious goods from Peace By Chocolate, from Antigonish NS.
We also enter all folks who left us new reviews on Facebook and Google Maps into a raffle of their own. Thank you to all who gave us feedback on our social media and Google Maps pages, we appreciate it very much.
ELM INOCULATION UPDATE
Thanks to generous sponsors and invested elm owners, Woodpecker Tree Care Ltd. inoculated 55 elms with DutchTrig. This means we have increased the likelihood of these elms' survival from Dutch Elm Disease for another year, and we could not have done it without the support we received from sponsors and clients. DutchTrig inoculation is always a bit of a scramble, since we have to do it when the lilacs are in bloom and they don't stay in bloom for long, but it is always an honour to help beautiful elms as much as we can. You can read a more detailed account of the 2022 inoculations on our blog, if you're interested.
Just because the inoculation stage has passed for the year doesn't mean there isn't more work to do! Sanitization is an incredibly important part of preventing the spread of Dutch Elm Disease. When removing dead elm trees, or pruning live ones, we make sure we remove the wood safely and clean all tools to prevent spread of the disease. It is always better to remove a dead or dying elm sooner rather than later, to keep it from spreading Dutch Elm Disease to other trees nearby. If you notice an elm is showing signs of distress (such as dead branches or yellowing or drooping leaves), get in touch and we would be happy to come look at it.
We are also starting our 2023 inoculation list. While we are doubling our supply of DutchTrig, it runs out very quickly. If you want your elm on our list for next year, get in touch sooner rather than later to make sure we have enough for you.
Those who participated in the DutchTrig inoculation this year have been sent invoices. If you haven't seen yours yet, let us know and we will make sure it gets to you. We have had some difficulty with emails going to spam recently, so we may need to send it more than once. Meg is still on full-time and can answer questions about elms, Dutch Elm Disease, and DutchTrig any time.