What is the Maritime Elm Protection Initiative?
A name says a lot, and for all of us at Woodpecker Tree Care, Tree Care means everything. Removing a tree is always the last option when on the job, and elms at risk of Dutch Elm Disease (DED) are no exception.
Elm trees were once ubiquitous in the Maritimes, beloved for their grand height and lush canopy, but more and more are becoming stumps or shrivelled skeletons as a result of DED.
In 2020, Woodpecker Tree Care launched the Maritime Elm Protection Initiative (MEPI) and became one of three licensed specialists in Canada that provides the annual DutchTrig vaccine. By combining vaccination and education, Woodpecker wants to save as many of these beloved trees as possible.
What is Dutch Elm Disease? 
Dutch Elm Disease (DED) is a fungus that has been slowly and steadily killing elm trees since the early 1950s. The disease spreads from province to province on the backs of elm bark beetles, which feed on the lead axils in the tree's canopy. The trees have little chance of fighting off Dutch Elm on their own, since their only defence is to seal off their own vascular system. This causes the trees to starve and dehydrate to death.
In the 1970s, the late Dr. Laing Ferguson headed Sackville's own elm tree commission. According to his letters, Sackville once had nearly 1800 elms, many of which have since died due to Dutch Elm Disease or other complications.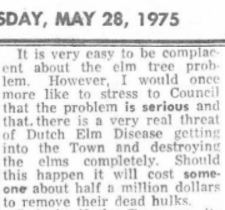 Dr. Ferguson wrote to the Sackville Tribune Post often, expressing concern for Sackville's elms. At the time this letter was written, Dutch Elm Disease had been discovered as close as Moncton, and he was concerned that it would eventually spread (he was unfortunately right).
Why are elm trees important? 
Elm trees are very valuable to the Maritimes, not just for their undeniable beauty. When healthy, these trees grow in a variety of environments and live for several hundred years. In those hundreds of years, the elms serve as habitats and food for insects and vertebrates.
They are very tolerant of polluted air, making them resistant to some impacts of climate change. Before the spread of Dutch Elm Disease, elms were often planted along busy streets since their vase shape casts natural shade along the sidewalks and roads.
We are very lucky to have elms in the Maritimes for all of these reasons, as well as their natural resistance to salty sea-air. If these trees were to be lost entirely, it would have devastating effects on biodiversity, urban landscape, and the Maritime ecosystem. 
How can we prevent Dutch Elm Disease? 
That's where the Maritime Elm Protection Initiative (MEPI) comes in, with something that all of us have become familiar with since the COVID-19 pandemic: vaccines.
The DutchTrig vaccines work just like a flu or COVID-19 shot, and provide the few remaining elm trees with a fighting chance against DED. As of right now, this vaccine is the only method of defence against Dutch Elm Disease, which is unfortunately still spreading across the Maritimes. Two weeks after its annual shot, the tree will be over 99% protected from DED. Woodpecker Tree Care will visit once per year to give it booster shots to make sure it stays protected longer than just one year.
With the help of municipal, business, and individual sponsors, the Woodpecker crew administers as much Dutch Elm vaccine as possible to vulnerable elm trees to keep this beautiful species from disappearing.
I have an elm tree on my property. How can I protect it from Dutch Elm Disease?
Vaccines are administered every year during a small window of time in mid-spring, so it's important to get in touch with us as soon as possible to make sure we don't miss your tree. The vaccine needs to be administered when the sap begins to flow in earnest, and the trees are lifting water and nutrients from their roots into their canopies. Coincidentally, the perfect time to give an elm a needle is the same time as when lilacs are in bloom. If the blooms have disappeared from the lilacs, it's sadly too late for this season and we will have to inoculate it next year. 
To make sure we get to your tree before the elm bark beetle does, contact us by phone, e-mail, Facebook, or Instagram to book an appointment with us. If you want to help us out and make the job quicker, take a measuring tape and tell us the girth of your tree.  
If you have an elm on your property but are unsure if you can cover the cost of vaccination (or removal if the tree is sick or dead), get in touch with the MEPI coordinator to discuss potential sponsorship opportunities.
I don't have an elm tree on my property, but I still want to help. What can I do? 
If there's an elm tree around that you know about that needs a shot, or if you just want to help an "orphan" elm, you can sponsor a tree and keep it alive and thriving for generations to come. Get in touch with the Maritime Elm Protection Initiative coordinator by phone or e-mail (meg@woodpeckertreecare.com) and we would be more than happy to help you help an elm. 
Does my elm have Dutch Elm Disease?
An elm with DED will have dry and/or yellowing leaves in its uppermost branches by mid-summer. A more advanced infection will result in more severe or complete drying and discolouration. Eventually, the tree will lose all of its leaves and die.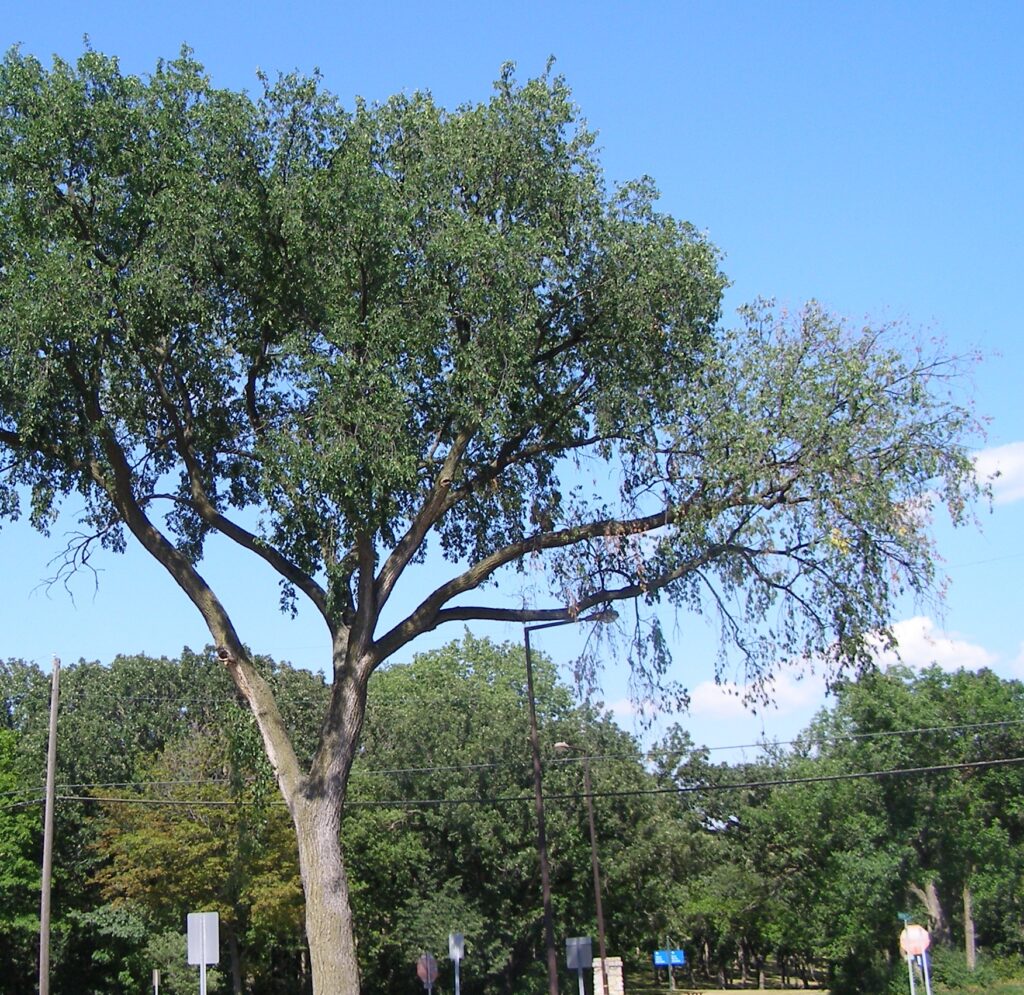 If you think your elm may have Dutch Elm Disease, contact us and we will do what we can to help. 
How much does it cost to protect an elm? 
Elms need to be vaccinated once per year in order to keep its immune system robust. The cost of inoculating an elm with DutchTrig varies depending on the size of the tree. 
To vaccinate them properly, a drop needs to be injected for every 4 inches around the trunk of the tree. To get a better idea of how much it might cost to protect your tree, measure the trunk with a tape measure 4 feet above the ground. Contact us and let us know what the diameter is (in inches) and we'll let you know how much it will cost to protect your tree. 
If you want to sponsor an elm, we also accept donations in any amount. Contact the MEPI coordinator by email (meg@woodpeckertreecare.com) for more details.
Countless elms have died from Dutch Elm Disease, and they are becoming fewer with each passing year. Once it becomes infected, there isn't much we (or anyone) can do to save it from being cut down. Don't miss your chance to save yours!