We are lucky to know and support several Maritime organizations that contribute to the health and success of our communities. Woodpecker Tree Care has benefited from the talent, compassion, and loyalty of the Maritimes over our twenty years in business, so we do our best to spread that love throughout multiple organizations. That support is manifested either by direct donations, fundraising efforts, and/or pro-bono or budgeted work.
One of our priorities is supporting the efforts of the Drew Nursing Home in Sackville, New Brunswick. The Drew has cared for the elderly in the Tantramar area for years, including some Woodpecker family, so we do our best to ensure the residents and staff get enjoyment out of their trees. We organize fundraising to inoculate their three gorgeous elm trees against Dutch Elm Disease, so they can be enjoyed for years to come. Many thanks to the sponsors of those particular elms; Scott Hall Tire, Muffler & Auto Repair Centre, Soper Physiotherapy, and Cory Allen Plumbing & Heating Ltd.
Another organization we provide DutchTrig services to is the Minudie Heritage Association, located in River Hebert, NS. Half a dozen elm trees grow along the riverbank, the only visible trees in a field of grass. Thanks to generous sponsors, we procure funds to inoculate these beauties at no cost to this hard working association, which preserves the legacy of the "Grindstone King," Amos Seaman, as well as numerous local historic properties.
Women are underrepresented in trades in general, and tree care is no exception. Woodpecker Tree Care also contributes funds to the Women's Tree Climbing Workshop, an American organization run by Melissa and Bear Levangie, that provides instruction for women interested in learning the tools of the trade. These workshops are open to women of any skill level, and folks leave with starter climbing ropes to climb at home. In an effort to encourage women who are interested in becoming arborists, Woodpecker sponsors a scholarship so women can learn to climb trees without cost.
We are a team full of avid gardeners, and are pleased to provide support to the Amherst, Sackville, and Springhill community gardens whenever we can. Recently, we were happy to provide free mulch to the Sackville community garden during Hurricane Fiona clean up. That was a mutually beneficial exchange, the wood chips were a-plenty! We also provide mulch and budgeted tree work services for Open Sky Co-Op, an organization that provides assistance and connection for adults with autism and/or mental health barriers. We have donated time to assist with their projects, and our talented gardener Norm Hunter took part in designing their incredible working garden.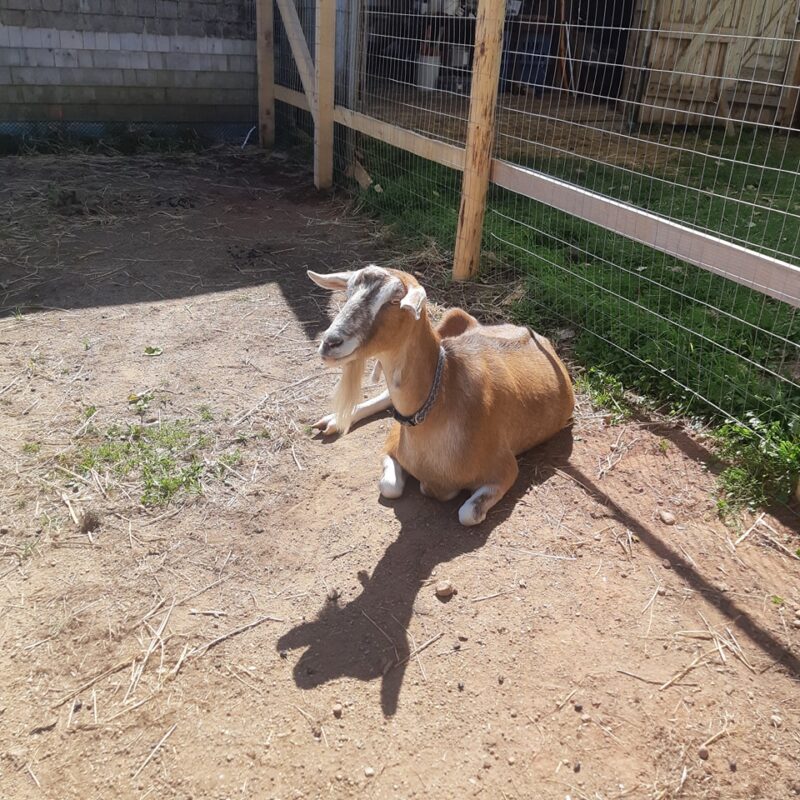 Kevin, the owner of Woodpecker Tree Care, often participates in and supports local theatre. His late wife Vallie Stearns was particularly active with the Performers' Theatre Company, on stage and off stage. Each year, Woodpecker Tree Care makes a contribution to Performers' Theatre Company to supporting their continuous enrichment of Tantramar's local theatre scene.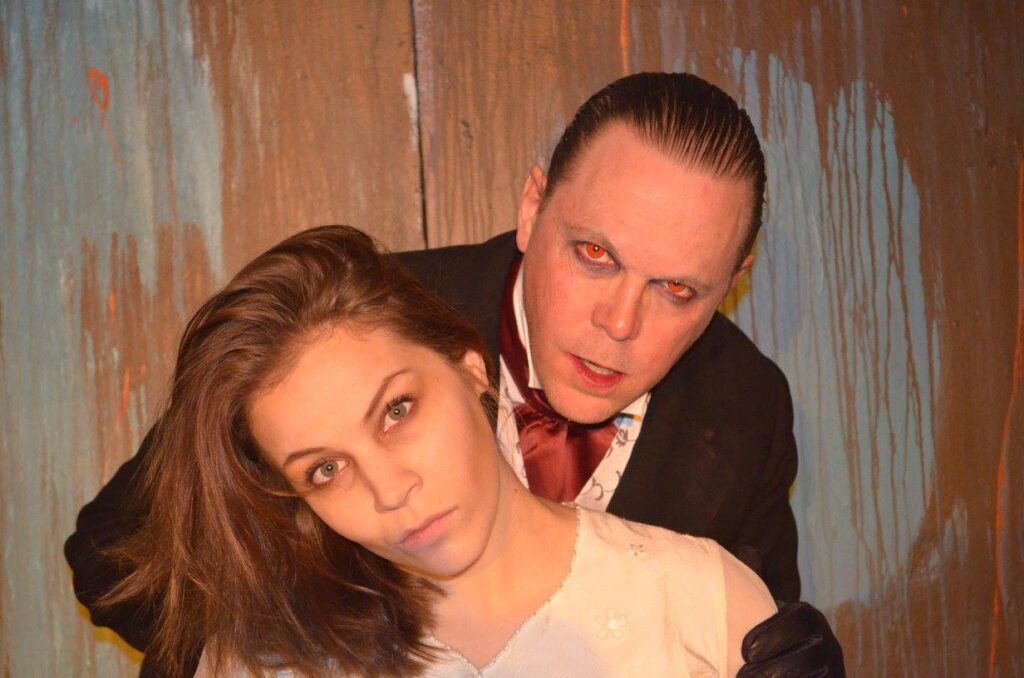 Woodpecker Tree Care also does budgeted and pro-bono work for certain cemeteries in need, including the Mattinson Hansford Cemetery in Oxford, NS. We worked with the Mattinson Hansford Cemetery Society and the W.B. Wells Heritage Foundation to renovate a neglected and abandoned cemetery and returned it to a respectable condition. It was completely grown over to the point where gravestones were invisible through the thicket when we first started, and it is now well-preserved and cared for by the society. We do our best to head to Oxford and clean up storm damage as soon as possible, like the uprooted spruce pictured below.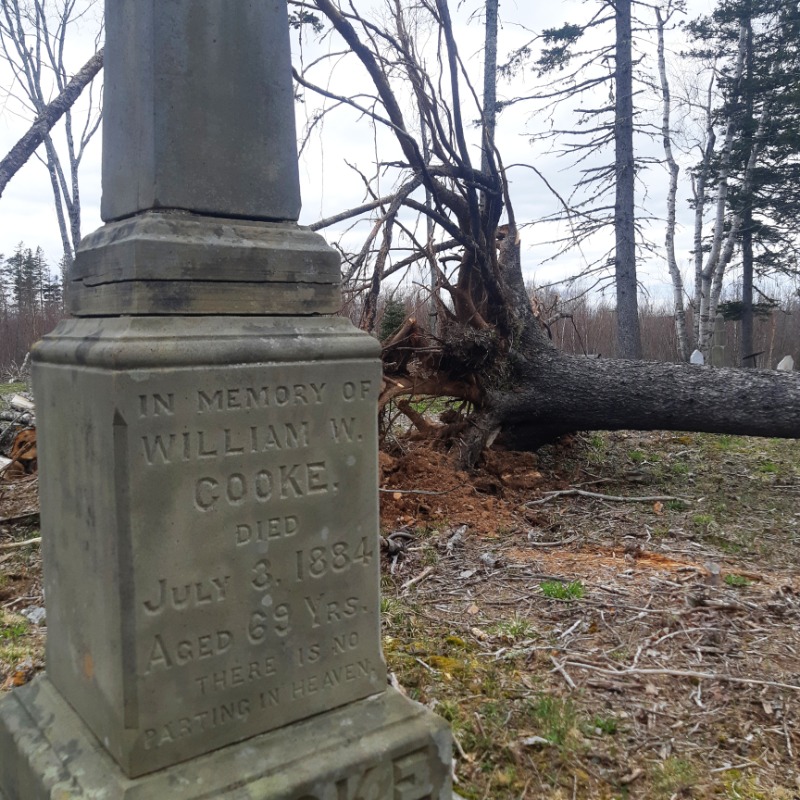 We also arranged for two elm trees in the Old Lower Sackville Methodist Cemetery to be inoculated with DutchTrig. This cemetery is right in the heart of Sackville, on a grassy knoll on Main Street. These trees are still young, and with DutchTrig will hopefully grow old and provide shade to the historic gravestones underneath its canopy. Thank you to Wheeler Electric, Marc Truitt, and Linda Snyder for their donations to those trees in need.
Since we are a small business ourselves, we are happy to provide support to these local organizations and be part of the local economy. We are always open to new partnership opportunities that benefit the community, and are fortunate to find many folks to weave our web of local support between. If it's a good fit, we are delighted to consider sponsoring more local initiatives in the future.