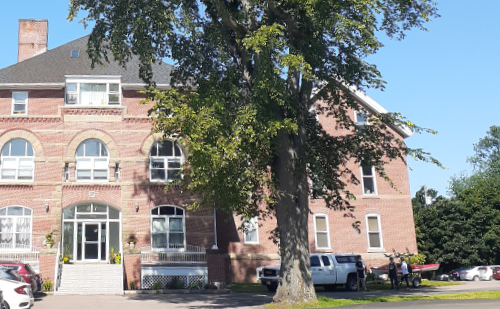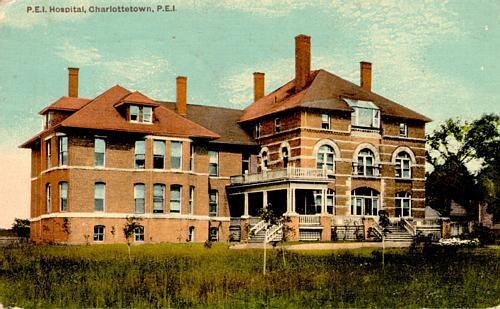 From the article in Canadian Register of Historic Places:
"The community took a great deal of pride in their new hospital. In 1902, the hospital ladies had a planting day where they planted a number of trees, some of which still survive. These young trees can be seen in a postcard featuring the hospital from around the turn of the century." Could our elm be one of these planted in 1902?
Photo – Doug Murray, Postal Historian

You have to wonder who the "hospital ladies" really were? Were they patients, nurses, a hospital Auxilliary perhaps? In any case, their commitment to their beloved hospital and a decision to invest in the future by planting some trees on the property has borne fruit. It makes you wonder what they'd think if they could visit their Elm and see the property today, and experience how different Charlottetown has become.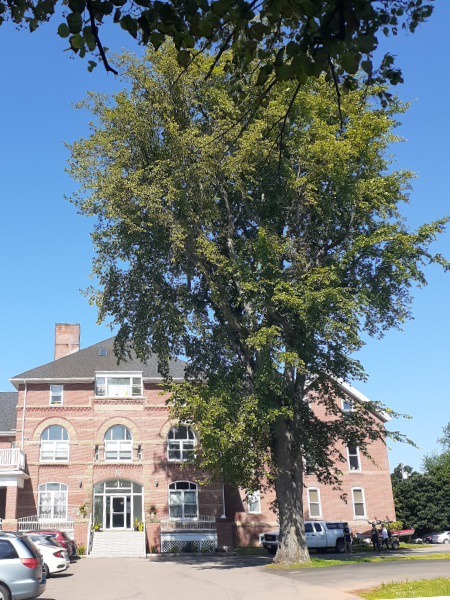 Charlottetown, like most larger communities in the Maritimes, is faced with the threat of Dutch Elm disease, something we are trying to help address with our own Maritime Elm Protection Initiative. The disease made it's debut on PEI in the 70's, and presents a difficult management task.
However daunting this may seem, there is always one simple thing you can do on any property with Elms – there may be no "hospital ladies" available, but anyone can be inspired by what they did and plant new small trees under mature Elms as a good investment in the future.